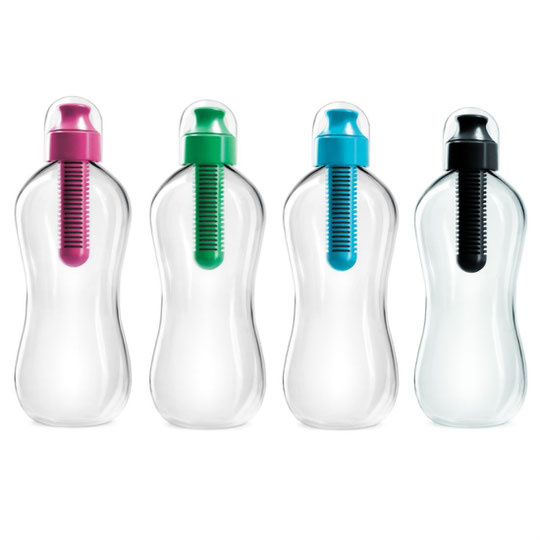 Consumers notation : Design : 9.2 - Ease of use : 9.5 - Innovation : 9.3 - Global notation : 9.3

At bobble we love design. We are design entrepreneurs. We see beauty in our environment, all around us, and we strive to protect it by designing affordable, sustainable products. And where we don't see beauty, we try to create it.
We invited people to adopt bobble. And the reaction has been explosive. Across the planet, bobble has made a very personal connection with individuals who share our passion for responsible, beautiful and fun products that highly respect the environment.
Bobble filtered water bottle
Bobble is a stylish, reusable bottle that filters water as you drink, using an ingenious replaceable carbon filter. when water passes through the filter, the carbon removes chlorine and organic contaminants. bobble is intended for municipal tap water making water better, with every sip.
bobble is a beautiful, sleek alternative to single-serve plastic water bottles, which harm the earth (and your wallet). every filter equates to 300 single-serve bottles. after a year, you've removed thousands of bottles from the environment, simply by filtering the water from your tap. bobble is free of BPA, Phthalates and PVC. and it is guilt-free as well. enjoy!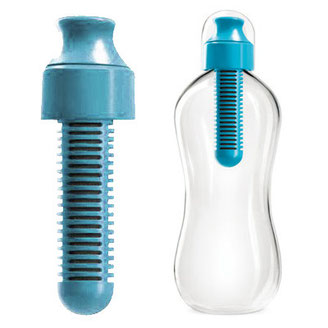 Filter facts.
bobble has an activated carbon filter which has a slight electro-positive charge, making it attractive to chemicals and impurities. As the water passes over the positively charged carbon surface, the negative ions of the contaminants are drawn to the surface of the carbon granules.
Carbon filters require very little maintenance, and are perhaps the most powerful chemical absorbents known to man. bobble's carbon-based filter removes organic contaminants from regular municipal tap water and meets or exceeds NSF International Standard 42 for chlorine, taste and odor reduction.
For best results we recommend changing your filter after 2 months or 40 gallons/150 litres. Filter for use with bobble only.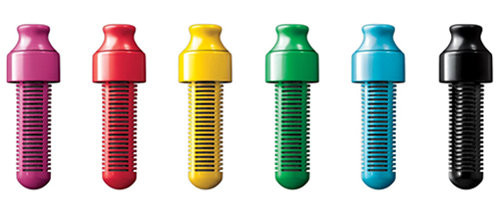 More detailed information on Bobble
Product reviews :
« You can either return 100 times from training with the same old crinkled bottle of tap water or drink bacteria- filled fountain water or you can fork out a lot of money for a new bottle every time. With Bobble, it's more economical, more beautiful and you get perfect water every time. »
« A real coup de cœur, hygienic, stylish, economical and, last but not least, ecological. »
« I love to stamp my mark and I can make my own personal statement with the different colours of filter I choose. »
« It's the perfect grip. It's functional, strong yet elegant. Beautifully designed bottle. »
« Goodbye bad smells, chlorine and other nasties which lurk in the tap water. »