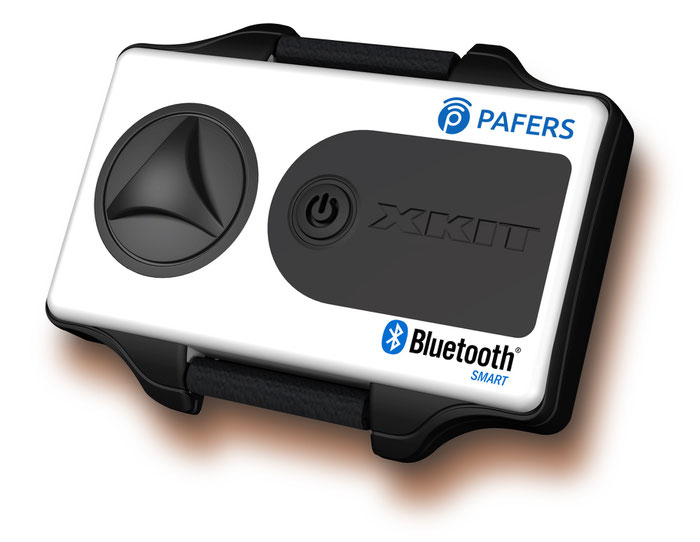 Consumers notation : Design : 8.8 - Ease of use : 9.8 - Innovation : 10 - Global notation : 9.5

PAFERS develops and distributes innovative Bluetooth Fitness Solutions that are transforming the fitness industry and providing exciting new possibilities.
Our ecosystem is capable of delivering products globally. PAFERS API is designed for developers who are interested in developing apps for PAFERS enabled fitness machines to build new concepts, integrations, visualizations, games… whatever you can think of! Let's make fitness more fun and exciting!
XKIT by PAFERS
Meet the revolutionary indoor cycling speed sensor
XKIT is revolutionary training device that comes equipped with a high-tech sensor that can be used to track your speed and distance as you pedal. The data is sent to compatible fitness apps so that you can see exactly how fast you are going and how far you have gone.
Easily installed to fitness equipment
XKIT can be installed to nearly any kind of indoor cycle, exercise bike, elliptical and bike with cycle trainer. This means that you can use XKIT with any new or existing fitness equipment and enjoy an awesome indoor fitness experience.
• Dimensions: 72 mm(L) x 39 mm(W) x 12 mm(H)
• Sends and receive signals up to 10 feet
• Powered by replaceable CR2032 button cell battery
• Bluetooth Smart (4.0) technology
• Compatible with: iPad 3rd generation, iPad 4th generation and iPad mini, iPhone 4S, iPhone 5, iPhone 5S and iPhone 5C and iPod touch 5th generation
• Compatible Apps: Cycle on Earth & Cycle Rush and BH by Kinomap
VIDEO
Consumers opinions
« You see this kind of invention perhaps only once a year, no more; a truly unique creation that brings true innovation and completely enriches the sport experience. »
« It is very impressive, you can position it anywhere, indoor bike or outdoor bike, you can access clear and precise data easily and quickly. »
« This is not only a great motivator but it will also give old equipment a new lease of life. »
« The free of charge applications « Cycle Rush; Cycle on earth "are just awesome and incredible ; to plan a riding route anywhere around the world , Rome, Paris, London whilst training is just a superb technological feat. »