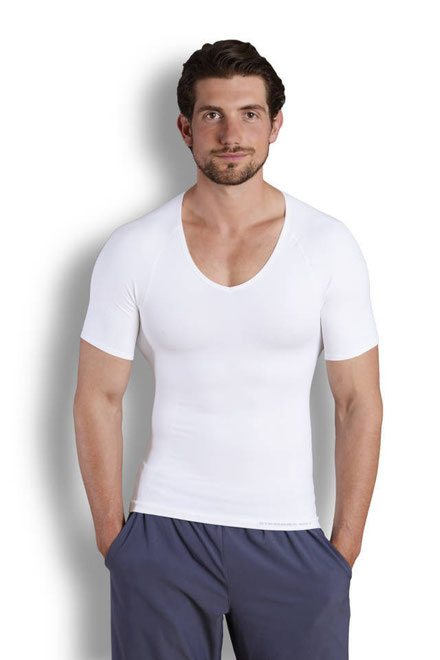 Consumers notation : Design : 9.8 - Ease of use : 9.7 - Innovation : 10 - Global notation : 9.9

Strammer Max is modern men's clothing of top quality. This high-class combination of innovative design of high-tech materials, style and experience from high-performance sport, physical therapy and biotechnology ensure a whole range of effects: body shaping, improvement of your posture, fat burning effect, brathable and antibacterial. 
Material
Strammer Max® consists of ultra-modern yarns, which essentially define its properties: 65% Meryl® Skinlife, 30% PE (polyethylene) as well as 5% spandex. These so-called techno-fibres have been optimized to specific functions and can even exceed the special properties of natural fibres.
Meryl® Skinlife belongs to the group of microfibres on the basis of polyamide with a diameter of less than a thousandth millimetre. Materials made out of Meryl® Skinlife have a high stich density and are particularly tear and abrasion resistant, light, soft, shape-retaining and easy-care. The microfibres have a water-repellent core and a hygroscopic coating, so that strong capillary effects absorb the moisture from the skin and transmit it to the outside. In addition, the Meryl® Skinlife fibres contain very fine, bioactive embedded silver particles.
Fibres made from spandex can be stretched to seven times their length and then contract immediately to their original position. Spandex is combined with other fibres, ensuring elasticity, great shape retention and an optimal fit of materials. The synthetic plastic fibre polyethylene (PE) is used, among other things, for work and weatherproof clothing. It is characterized by a soft, waxy surface, endurance and a high level of durability.
Body shaping: Do you feel under pressure as a result of people's expectations? From now on your shirt absorbs that pressure! The sophisticated fashion and close-fitting compression areas smoothly shape what seems to be too much. You appear immediately clearly slimmer and more athletic. 

Improvement of your posture: Especially integrated back shape up zones support your sholderand back muscles and strenghten you for a straight and powerfully posture. Back trouble caused by incorrect posture or irritability can therefore be avoided or can be alleviated. 

Fat burning effect: At the same time hte compression effect stimulates the cellar metabolism and in doing so benefits the fat burning or adipose tissue. This effect is boosted if you wear your shirt when doing sports. 

Breathable and antibacterial: Your shirt is tight and extra breathable. The cooling zones and innovative fibers and textures guarantee a cool and dry feeling, even when wearing it for a longer time. odorless and antibacterial effect are provided as well.

Product reviews :
« In the beginning I was afraid to wear this T-shirt, because even though I am a sportsman I do not have the body of a supermodel but this cloth support my back perfectly and abdominal muscles. It makes me feel good and it compresses my little « rolls of fat »
«The material is like a second skin, it really breathes and it's very comfortable.»
« Socks are amazing, much better than the ones I used to wear. Since I've worn them I have never had any problem of mycosis while I've had this problem for over 8 months. »
« These clothes offer the advantage of making you more aware of your body and your muscles, with this support I know I do my fitness exercises better and I have much less back pain.»
« The difference with the other products of the same kind: the packaging is beautiful, very elegant, the material actually « breathes, » you can wear it for several days in a row without problems, no smell. »
« In its category it is definitely the best product for amateur or professional athletes, this can be seen right away, it's upscale, almost tailor-made.»