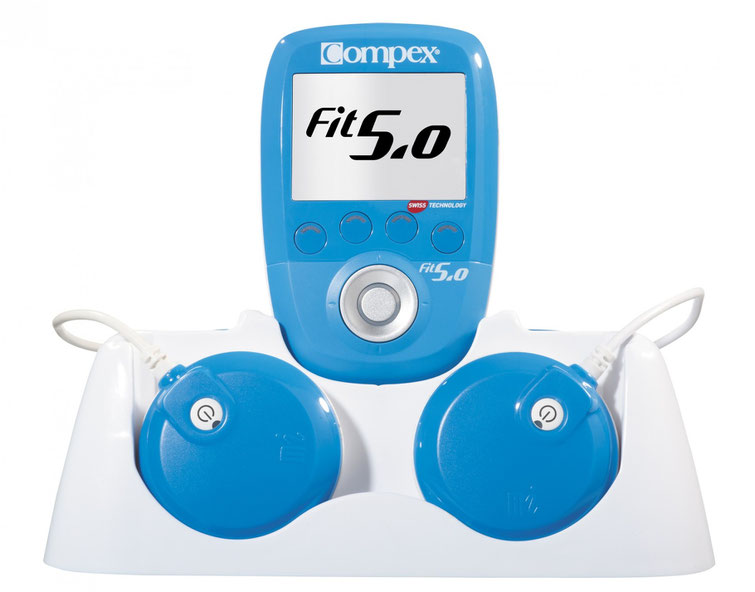 Consumers notation : Design : 9.6 - Ease of use : 9.7 - Innovation : 9.8 - Global notation : 9.7

Compex is a Swiss brand that has built up unparalleled expertise over a period of just over twenty years in the areas of physiotherapy, pain treatment and sports training. Over the years, Compex's flagship electrostimulation technology has become an essentially to health care professionals and the most demanding athletes. It is now a widely known training technique, used for physical preparation, muscular recovery, injury prevention and pain treatment. Backed up by clinical trials proving their effectiveness, Compex stimulators belong to medical device category class II and meet the requirements of the European Medical Standard 93/42 EEC.
COMPEX®FIT 5.0 ELECTRIC MUSCLE STIMULATOR
Designed for people who workout daily, Fit 5.0 is the ultimate product in the range, as it also includes Compex wireless technology. Delivered with 2 stimulation modules, Fit 5.0 is also modular, with the option to add 2 additional modules for even more effective performance.
Pain management




Pain management TENS.

Reduce muscle tension.

Muscle pain.

Neck pain.

Back pain.

Lumbago.

Epicondilitis.

Tendinitis.

Heavy legs.

Cramp prevention.
Rehabilitation

Muscle atrophy.

Reinforcement.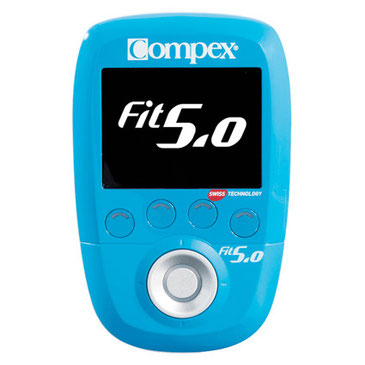 Recovery / Massage


Training recovery.

Relaxing massage.

Reduce muscle soreness.

Reviving massage.
Fitness




Firm your arms.




Tone your thighs.




Get a 6-pack.




Get stronger biceps.




Build your shoulders.




Build your pecs.




Firm your stomach.




Shape you buttocks.




Body power.




Cross-training.




Muscle building.




Warm-up.




Capillarisation.




Lymphatic drainage.



MI, PERSONALIZED STIMULATION ADAPTED FOR EVERY PHYSIOLOGY Equipped with unique MI (muscle intelligence) technology, Compex stimulators adapt to each of your muscles to provide the most effective electrostimulation possible, while offering greater comfort and better performance. MI, HOW IT WORKS MI-SCAN scans the muscle and automatically adjusts stimulator parameters to your physiology. MI-RANGE indicates the optimal level of stimulation to use for Recovery and Massage programs.

How to use it? 
Product reviews :
« Compex's still the best brand for electrostimulation, it is really the only one that is an entertaining and professional device at the same time. I had already tried the Wireless 8.0, and I must say that with the Fit 5.0. I find all the qualities of the 8.0 at a better price and even easier to carry. »
« From time to time after overeating, or at the beginning of the year when you take »new » resolutions, instead of doing sport I rush at my electro-stimulation belt but I usually give up very quickly because I have almost no results. The Fit 5.0. muscles, really shapes and relaxes my body.»
« A simple menu, a wireless product, no waffle, it's highly efficient, perfect for abs, pecs but also to relax your legs for example. »
« Shaping your belly is very complicated by making traditional abs but it is very easy with this product. It's perfect in addition to sport and it works at specific areas of my body. »
« It does not hurt! I don't like receiving unpleasant electric shocks that cause red blotches and transform training in torture. It's hard to describe but it's really like a real workout, the muscle works exactly the same way, it is natural and effective. »
« I often had muscle cramps that prevented me from doing as much sport as I wanted and this unit is great for people like me because electrical stimulation helps significantly reduce muscle cramping while obtaining the same results as a real sports session. »
« I am a fitness addict and I always have a heavy heart when I go on holiday because I know that I will not be able to follow my group classes. With the Fit 5.0, (super easy to carry around), even in a small suitcase, I can go on training even on holiday. »