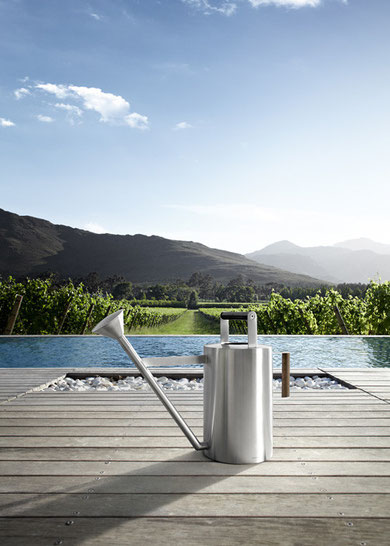 Consumers notation : Design : 9.5 - Ease of use : 9.6 - Innovation : 9.1 - Global notation : 9.4

The manufacturer of stainless steel products has a long family story and a steep rise as a seller of design articles.
In 1921 the company SKS was founded by Karl Scheffer-Klute, Sundern / Germany, specialized in manufacturing of bicycle pumps. In 1961 Wilhelm Blome, father of Willo Blome, establishes the sks-design GmbH for the production of general metal giftware. In 2000 the brand blomus® was established and since 2009 the blomus GmbH has been operating as an independent company.
Today the new catalogue offers a portfolio of 700 products from the areas garden, home, taste and spa presenting the fascinating world of blomus® products: they are cool and likeable, practical and elegant, timeless and bold.
Verdo watering can
Its timeless lines and iconic stature have already made the VERDO watering can a design classic. A symbiosis of intuitive ergonomics and elegant aesthetics gives VERDO its unique character.
The cool appearance of high-quality stainless steel is tempered by the warm touch of the dark stained acacia wood of the handles, a mix of materials which is as pleasant to look at as it is to touch. Two handles make light work of watering particularly when using the large 6-litre can.
VERDO comes in two sizes: 4 litres and 6 litres.
Consumers opinions
"I garden and I know a thing or two about watering cans. Water spilt all over the house and my trousers, a wobbling green plastic watering can which I tuck away in a corner. My Blomus, however, has pride of place on the garden bench. I want it to be seen. A first for me"
"Can hold a lot of water and with its two handles it is easier to carry and much more pleasant to water with"
"It is the« chic-est » and the most practical. It is beautiful and simple ; that's what makes a product pass the test of time and remain pleasant to look at and use"