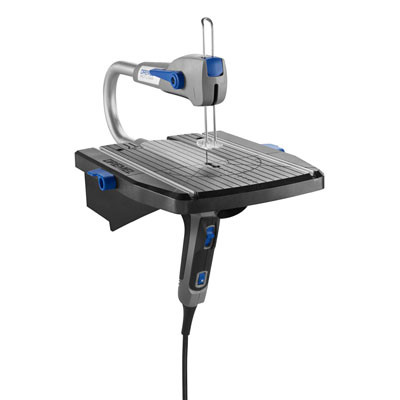 Consumers notation : Design : 8.5 - Ease of use : 9.6 - Innovation : 9.7 - Global notation : 9.3

Dremel was founded in 1932 by AJ Dremel who introduced the world's first multitool. Today, it is dedicated to creating and manufacturing Versatile Tool Systems™ of the finest quality for consumers engaged in a wide variety of hands-on DIY & creative hobbies, such as, indoor and outdoor home maintenance projects, automotive restoration, woodworking, model building, as well as, a multitude of creative projects from jewellery making to scrapbooking. The Dremel Versatile Tool Systems™ consist of compact, versatile and precise tools such as the Multitool system, Spiral saw system, Gluegun system and many more. All products come with dedicated accessories and attachments making it easier to perform detailed and intricate tasks for any kind of hands-on project. Since 1993, Dremel has been part of the Bosch Group represented in around 50 countries worldwide.
Dremel Moto-saw
The Dremel Moto-Saw offers a compact and easy solution for making detailed cuts in a variety of materials including wood, plastic, laminates and metal. This portable, precision-sawing tool is easy to store, set-up, and operate and features a tool-free mechanism for quick blade changes. An auto-tensioning feature keeps the blade taut and ready to cut so you don't have to make blade adjustments and its slim, ergonomic handle with comfort grip provides control in any cutting position. The Moto-Saw functions as a stationary scroll saw yet it can be removed from its base to become a portable motorized coping-saw.
Precisely cut through a variety of materials: wood, laminate, plastic and thin metal
Portable. Precise. Easy™
Two tools in one: bench top and handheld capability
Consumers opinions
"The object is rather compact and very convenient, its biggest advantage is the ability to give a precision cut very quickly, without additional hardware."
"I love DIY but when you live in a flat you don't always have the space for a workbench. I am really excited by it! I can mount it anywhere, on the kitchen table, in the office, on the stairs if like. It's safe and does not make a mess."
"I hurt myself repeatedly trying to cut between two sawhorses. DIY is fun but also risky and you can't be too careful. With this mounting system I can finally have a real workbench and that makes all the difference."
"You gain an awful lot of space and make big money savings because you do not need a special DIY area; you can do it on the kitchen table, the garden table, on the balcony, wherever you like; it is a small workshop all in one, well thought out."
"Effective, does not take any place and is very easy to use."