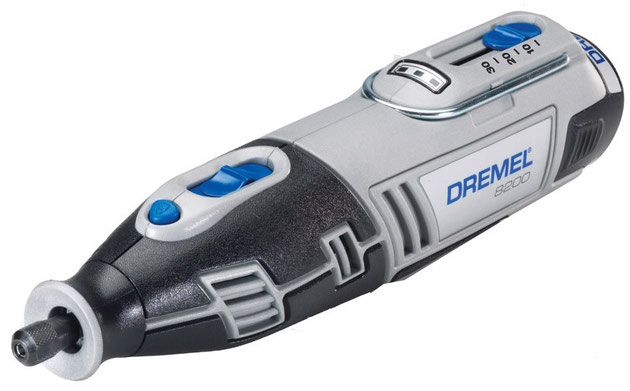 Consumers notation : Design : 9.1 - Ease of use : 9.7 - Innovation : 9.4 - Global notation : 9.4

Dremel was founded in 1932 by AJ Dremel who introduced the world's first multitool. Today, it is dedicated to creating and manufacturing Versatile Tool Systems™ of the finest quality for consumers engaged in a wide variety of hands-on DIY & creative hobbies, such as, indoor and outdoor home maintenance projects, automotive restoration, woodworking, model building, as well as, a multitude of creative projects from jewellery making to scrapbooking. The Dremel Versatile Tool Systems™ consist of compact, versatile and precise tools such as the Multitool system, Spiral saw system, Gluegun system and many more. All products come with dedicated accessories and attachments making it easier to perform detailed and intricate tasks for any kind of hands-on project. Since 1993, Dremel has been part of the Bosch Group represented in around 50 countries worldwide.
Dremel 8200
The Dremel 8200 is the most powerfull cordless multitool for the more demanding DIY'er. Especially for maximum performance jobs, like cutting and grinding both indoor as well as outdoor in all sorts of materials. The 8200 has a 10.8V Li-ion battery with ECP technology and a quick 1-hour charger. Cordless.
Consumers opinions
"The tool cuts off as soon as you stop pushing the button ; it does not go on for a minute and that is very very safe."
"You can practically do everything with it."
"Only one hour to recharge and off you go ! That's a real plus as I don't always know in advance when I am going to need it."
"Fits well in the hand and very easy to use – there's nothing like it."