Consumers notation : Design : 9.8 - Ease of use : 9.6 - Innovation : 8.8 - Global notation : 9.4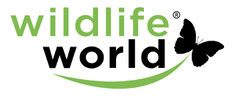 "With a strong commitment to the conservation of species, our efforts to produce innovative and valuable nesting habitats and feeders for birds, mammals, amphibians and insects are benefiting wildlife all over Europe and are an on-going contribution to the survival of species in both the UK and other countries.
Our commitment to innovative features has gained us an enviable reputation as leaders in the design and manufacture of products for wildlife."
Urban Bird Feeder
This Urban Bird Feeder is part of our new contemporary range of wildlife habitats with sleek design to suit the Urban environment. The large round entrance hole allows small birds to enter the feeder and dine in! The outer shell of the bird feeder is made from Clayplas+ which is a composite material of clay and recycled plastics. This material is very durable and also has great environmental credentials due to the recycled element.
Each outer shell has dual keyhole hanging points to allow the bird feeder to be hung square on or as a diamond to suit. The interior of the feeder is made from sustainably sourced FSC timber with a clear perspex front panel with large stainless hole protector. This inner wooden box may be pulled out of the outer casing and the sliding perspex panel of the inner may be removed for cleaning and refilling. The Urban Bird Feeder is supplied with an additional perch which clips into the stainless steel ring.
Contemporary design for Urban living




Combination of ultra modern material and natural timber




Different hanging positions - Square on or Diamond




Stylish, colour coordinated packaging across the Urban Range



Consumers opinions
"If you love birds you feed them. When you feed them you want to see them eat and enjoy. This little box, transparent and design enables this and is very nice"
"Birds are flying tummies, they even eat in my hand as they are so greedy. We could say that the container does not matter for them but for me of course it is important. This bird feeder is a small house of architect for the birds of my garden, really cute."
"Convenient, fresh and elegant, it is really a beautiful creation, easy to use and immediately adopted by the birds of the neighborhood"
"I have a small balcony and this bird feeder is perfect because it is both practical and aesthetic."