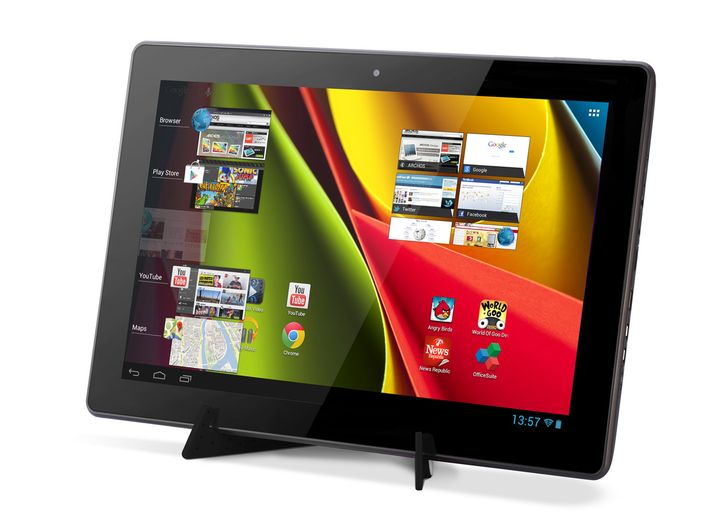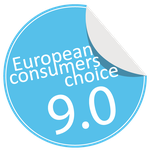 Consumers notation : Audio & video quality : 8.8 - Usability : 9.5 - Innovation : 8.7 - Global notation : 9.0
Archos, precursor in the portable audio and video player market, and now specialized in Android powered touch tablets, has repeatedly revolutionized the market for consumer electronics since 1988. Today, ARCHOS offers Internet Tablets, Tablet PCs and MP3/MP4 players.
Since founded, Archos has constantly innovated in the portable multimedia market. Having introduced several industry firsts ARCHOS maintains an inventive approach to product development.
Archos FamilyPad 2
Perfectly sized to gather around, the new ARCHOS FamilyPad 2 and its impressive 13.3 inch (34cm) HD screen will become the whole family's companion.
Powered by a 1.6 GHz Dual-core processer, whether it's watching movies, playing a game, sharing pictures or connecting to social networks, the ARCHOS FamilyPad 2 runs everything smoothly on its big and sharp display.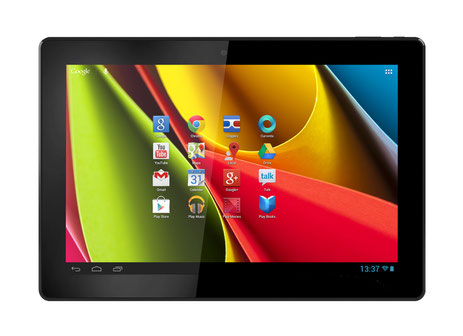 Design
With its 13.3 inch HD screen the ARCHOS FamilyPad 2 is the perfect screen size to gather around and share as family. The 16 million color, 1280 x 800 pixel screen means that whatever you're doing, the ARCHOS FamilyPad 2 will show it off perfectly, and its extra-large battery will mean it'll show it for longer – over 10 hours of video playback.
The ARCHOS FamilyPad 2 is powered by a fast Dual-core processor combined with a powerful quad-core graphics processor, plenty of processing power that means that Android is smoother, your apps open faster and internet browsing is more fluid than ever.
The ARCHOS FamilyPad 2 includes a 720p front facing web cam as well as its back camera. So it's perfect for video chatting with the whole family together.
Because it's got a mini-HDMI port, you can plug the ARCHOS FamilyPad 2 into your HDTV to experience the complete Android™ interface on your TV. Great for watching videos or sharing that gaming session on the big screen. The ARCHOS FamilyPad 2 also has a microSD card slot to boost storage as well as USB Host to transfer data from a USB flash or hard drive.
The ARCHOS FamilyPad 2 comes with its own stand, so when you're not using it for apps, the web or multimedia, it can become your connected photo-frame or your family calendar (with google's cloud-based, multi-user calendar app).
Android 4.1
The ARCHOS FamilyPad 2 runs Android 4.1 'Jelly Bean' for tablets and includes all the improvements that come with Android 'Jelly Bean' including even smoother interface animations, voice assistant and Google Now that shows you the right information at the right time.
With full access to the Google Play™ store the ARCHOS FamilyPad 2 includes DRM support for downloading books and movies. Whether it is from the over 700 000 apps and games, the thousands of movies or millions of books, Google Play has the content for you.
The ARCHOS FamilyPad 2 also includes access to all the Google designed Android apps; whether it's to keep in contact via Gmail™, Google Talk™ and Google+™ (with multi-user video calling), planning a trip with Google Maps™, reading web pages in a magazine format with Google Currents™ or accessing your content on the cloud with Google Drive™ and it's 5GB of free storage.
Share
Thanks to its 13.3 inch (34 cm) screen the ARCHOS FamilyPad 2 is perfect for sharing your tablet experience. Browse the web together as a family for when you do your online shopping or look up that Wikipedia article as a group.
Thanks to its super-fast Quad-core graphics processor, the ARCHOS FamilyPad 2 is a perfect device for playing together. Whether it's from the dozens of multiplayer games available to download or simply to play an interactive board game, the ARCHOS FamilyPad 2 can get you playing together as a family.
Consumers opinions
"A unique design, the perfect size for comfort, simple, efficient, the ideal family tablet."
"Its 13.3 inch screen (34cm) enables you to watch films and surf the web comfortably.."
"With 1 GB RAM and 8GB (compatible with cards up to 64GB) you have absolutely everything you need for family use."
"The biggest plus for me is the 'Archos Video Player ' ; the tablet is simply the best for audio and video formats."
"This is an excellent compromise between a family product and a product for the professionals and it has everything for the young and the grown ups."
"This tablet is designed for easy free access and the dock is fully adapted for that. Grab it, check your mail, turn off a boring TV programme and flop into your sofa ; take it to the garden to relax with music or take some family pictures with the dog on the trampoline ! This is a tablet for all seasons, well designed with pleasing proportions."