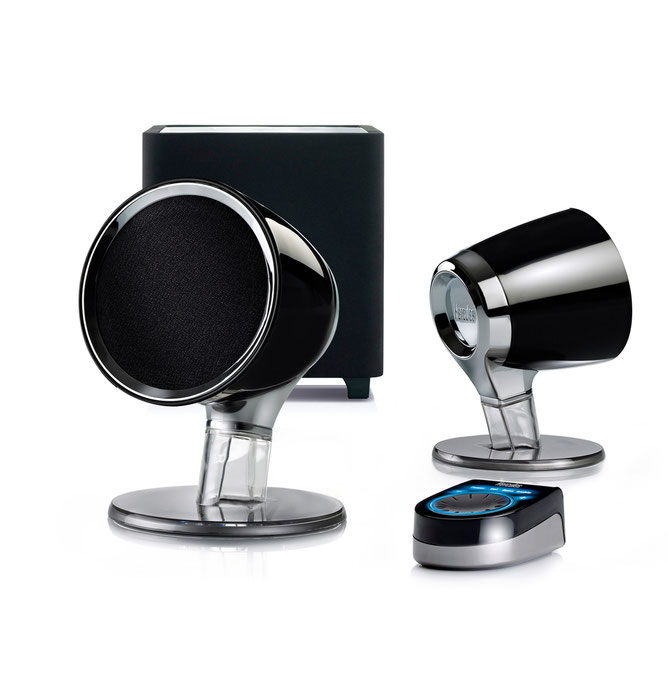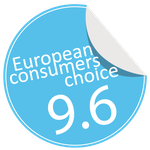 Consumers notation : Design : 9.7 - Ease of use : 9.5 - Sound quality : 9.7 - Global notation : 9.6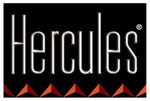 Hercules has been designing high-quality multimedia speakers for the last few years and is now also producing speakers with a wider mass market appeal. Hercules speakers always include some totally unique features and aim to meet the ever-increasing demand for technology that fits in with consumers' lifestyles.
Hercules XPS 101 speakers
High-end 2.1 multimedia speakers High-performance 2.1 audio system. Total power: 101 watts RMS (2 x 20.5W + 60W). Peak power: 202 watts. Speakers are magnetically shielded, so as not to disturb your surroundings. Subwoofer with subwoofer driver on the front and two passive woofers (one on each side of the subwoofer), for perfect rendering of bass frequencies.
A great new design, only from Hercules :
Satellite bottoms and top of subwoofer crafted of metal alloy and formed via the "Die Cast" pressure injection method.
Satellite stands made of clear Plexiglas.
Piano-like finish on the satellites.
Connectors located underneath the subwoofer, for enhanced aesthetics.
Multifunctional remote control with pulse switch and backlighting :
Volume control
Bass control
Treble control
Headphone input
Auxiliary Line In input
Connection cable to the microphone input on a PC/Mac.
Product complies with ROHS standards.
Product complies with the standard of less than 1 watt of electrical consumption in standby mode.
Consumers opinions
"The remote control is really cool to adjust the volume, bass, medium and trebble ; it is very fluid and the sound restitution is perfect."
"The best of sounds in the finest sound installation."
"I am very fussy about sound and this is the best system you can find at whatever volume you play it."
"Top class product - top class design! "