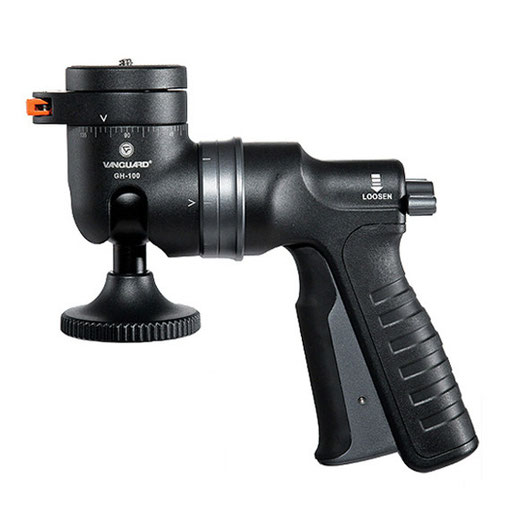 Consumers notation : Design : 8.9 - Ease of use : 9.0 - Innovation : 9.6 - Global notation : 9.2

For 25 years, VANGUARD has been a global leader in high-quality photo-video accessories (tripods, monopods, ball heads, camera bags and cases), hunting accessories (archery bow cases, gun cases and gun pods/shooting sticks) and sporting optics (binoculars and spotting scopes). The diverse lineup includes products with first-of-its-kind features that are molding industry standards.  
Vanguard GH-100 pistol grip ball head
Fusing the smooth precision of a ball head with impressive ergonomic control, GH-100 enables you to position your camera or spotting scope quickly with unmatched versatility.
This well-engineered ball head has the Grip Position Release System with an industry-leading pistol grip-style handle, which rotates 360 degrees and enables you to unlock, reposition and lock gear into place with ease. Its one-handed, maximum comfort and convenient operation frees your other hand to make lens zoom adjustments. Depression of the handle allows 360-degrees of panning movement and -32 to +90-degrees of side-to-side tilt and -8 to +90-degree back to front tilt movement all round. It instantly locks into place with simple release of the handle.
Other impressive features include its Friction Control System which allows you to modify the level of friction on the ball to accommodate changing equipment weight such as switching to heavier lenses.The anodized center ball allows for extremely fluid movement without sacrificing precise control. GH-100 ensures the safety of your expensive equipment with a dual-locking quick shoe mechanism that prevents accidental release. It lets you attach and detach your gear quickly and efficiently.
Other notable features include its 72-click point panorama, offering 72-point rotation with click-into-place positioning that moves the camera 5 degrees per click and prevents jumps in shots to ensure a perfect 360-degree panorama.GH-100 provides impressive versatility in positioning with 360-degree horizontal movement and 90-angle tilt.
Dual-locking quick shoe mechanism
72-click point panorama
360-degree horizontal movement and 90-angle tilt
Consumers reviews
"There are a few pistol grip heads on the market right now but most are of poor quality, not the professional calibre you expect. This product is truly for the pros and offers many possibilities which will meet with your approval."

"The best way to switch – hey presto ! from portrait to landscape mode effortlessly"

"It enables you to do a 360 degree horizontal swipe and set a very accurate position thanks to the graduations. Once selected, the position is secured by the simple and effective locking system."

"This product is awash with features and qualities : it's very innovative, very professional and yet so simple to use- you get it in a few minutes !
"
"What more do you want ? Wide tilt, 72-click point panorama, a pistol grip to position your camera comfortably, this is a fully adaptable piece of gear for panoramic photography.
"
"A very pleasant piece of equipment , very practical with a superb finish.
"