Consumers notation : Design : 9.2 - Ease of use : 9.8 - Innovation : 9.5 - Global notation : 9.5

LG Electronics continues to pursue its 21st century vision of becoming a worldwide leader in digital ensuring customer satisfaction through innovative products and superior service while aiming to rank among the world's top three electronics, information, and telecommunications firms by 2010.
On our way, we hold tight to a philosophy of "Great Company, Great People," underscoring our belief that only great people can create a great company.

LG strives for greatness in what we've identified as our three core capabilities: Product Leadership, Market Leadership, and People Leadership—each strength a key part of realizing our growth strategies for "fast innovation" and "fast growth".
LG HS200G projector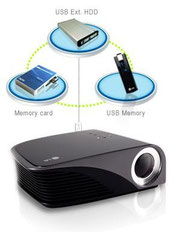 LED-Digital Based Light Source
LED-based digital light not only delivers a wider colour range and deeper colour saturation than traditional lamps-its ultra-fast, pulsing LED-light eliminates motion blur and colour break-up.
HDMI™ Input
A single, all-digital cable input makes it easy to connect and integrate all your digital systems, including cable/satellite boxes and games.
Photo and Movie Player via USB, DivX SD
View photos and movies via the USB input. Supports DivX SD movie formats
Super Long Lasting LED Lamp
Unlike conventional lamp-based projectors, LG HS200 LED lamp can last upto 30,000 hours. 4 hours a day, lasts 20 years.
Wireless FM Reciever
You can utalize any audio device with the built-in wireless FM reciever.
Input/Output Connectivity
Utilize the multiple connectivity options. These include HDMI for Blu-ray or an alternative Digital input, USB connectivity for reading photos or music, and video in to input your digital camera or smart phone.
Consumers opinions
« It's so cute. Really small, but the image loses nothing in quality »
« The image can be huge and retain excellent quality, it is ideal for " viewing sessions" in the garden »
« I connected it to the pc, I connected to YouTube, and it was ready for a karaoke night fever »
« For a business meeting it is perfect, it's serious and reliable »