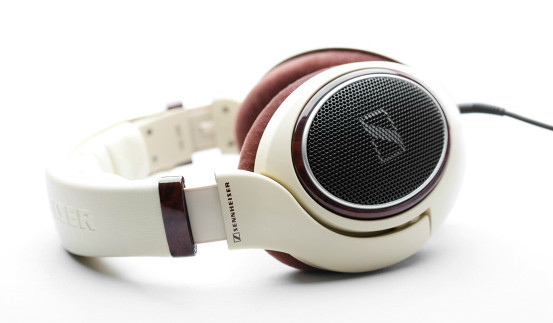 Consumers notation : Design : 9.8 - Ease of use : 9.7 - Innovation : 9.7 - Global notation : 9.7

Sennheiser electronic is an international organisation based in Wennebostel (Wedemark), near the German town of Hannover. In 2008 the turnover of the family-owned company was around 385 million euros. Of that, over 82 percent was generated outside Germany. The range of products offered includes headphones, microphones, wireless microphone and monitoring systems, conference and information systems as well as aviation and audiology products.
 
The world's leading manufacturer of studio microphones, Georg Neumann, is part of the Sennheiser Group, as is the Danish-based joint venture company, Sennheiser Communications, which develops headsets for PC, office and call centre markets. The group's products are distributed via an international network of long-standing Sennheiser partners and subsidiaries.


Sennheiser headphone HD598
Not only are the HD 598 aesthetically pleasing to the eyes but they also provide an impeccable sound quality and unrivalled comfort. These beige-coloured open, circumaural headphones come with high-gloss burl wood parts and matching ear pads for a sophisiticated, premium finish. With Sennheiser's innovative E.A.R. technology, audio signals are directly channelled into your ears. These headphones also incorporate a special diaphragm geometry that minimizes intermodulation distortion while delivering an impressive frequency response range, plus a highly constant compressed cellulose fleece to hold harmonic distortion to less than 0.1%. And to accentuate the already outstanding listening experience even further, their high-quality leatherette headband and velour ear pads provide outstanding wearing comfort, even for long listening sessions.
Features
. High-end open circumaural headphones with E.A.R. technology for outstanding sonic accuracy and clarity
. Sennheiser's innovative "Eargonomic Acoustic Refinement" (E.A.R.) design channels audio signals directly into your ears
. State-of-the-art, advanced Duofol diaphragms for transparency and minimal distortion
. Highly optimised, field-strengthened neodymium ferrous magnet systems for an excellent dynamic response
. Surround reflector for extended spatial sound field
. Lightweight aluminium voice coils for high efficiency and excellent dynamics
. Special diaphragm geometry reduces intermodulation distortion
. Highly constant, compressed cellulose fleece reduces total harmonic distortion
. Premium beige and high-gloss burl wood parts for a sophisticated finish
. Extremely comfortable velour ear pads and headband
. Excellent connectivity, also with home Hifi equipment
. 2-year warranty
Delivery Includes
. 1 HD 598 headphones
. 1 3.5 mm adapter
Consumers opinions
« Sennheiser is the best brand of audio headsets, and this headset is Sennheiser's best »
« It's comfortable, all your attention is concentrated on the sound, brilliant ! »