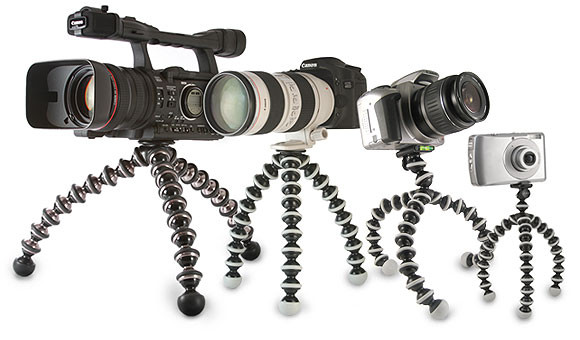 Consumers notation : Design : 9.2 - Ease of use : 9.9 - Innovation : 9.9 - Global notation : 9.7

Joby is a young, high-growth company that revolutionized the camera accessories market in early 2006 with its Gorillapod line of flexible tripods and continues to redefine the consumer electronics market with its Gorillamobile and Gorillatorch product lines. The brand has a strong and loyal following of consumers who are passionate about both innovative design and functional performance. Founded in 2005, Joby is a privately-held company headquartered in San Francisco, CA, with offices in Santa Cruz, CA; Geneva, Switzerland; Singapore and Shenzhen, China.
Joby Gorillapod
The Gorillapod firmly secures your compact digital camera to just about anything - anywhere and everywhere. Unlike traditional tripods the Gorillapod doesn't require an elevated flat surface for you to take the perfect picture. The flexible joints allow you to rotate and bend 360º to form the perfect shape. This opens up a lot of new poses and angles for your photos and it's also safer for your equipment - no more crazy acrobatics and precarious positions for your valuable digital camera.
Gorillapod is lightweight, compact, bendable, wrappable and easy to carry. It's the perfect accessory for getting great photos in any location.
Consumers opinions
« The photographic invention of the decade, brilliant »
« The Gorilla Pod really settles everywhere, I adopt it »
« Obviously made for photographers'delight »
« Brilliant idea, innovation : 10/10 »