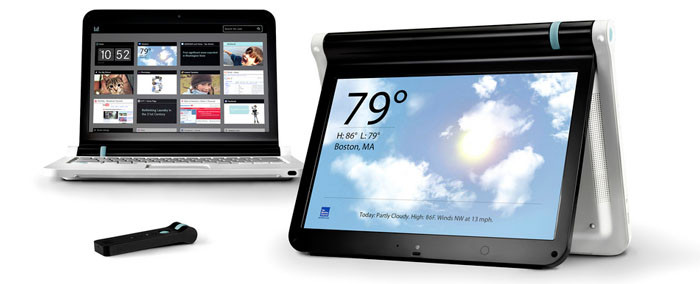 Consumers notation : Design : 9.8 - Ease of use : 9.6 - Innovation : 9.5 - Global notation : 9.6

Litl develops innovative cloud-based computing products for the home and manufactures the world's first cloud-based netbook, the litl webbook. Based in Boston and London (UK) and founded by 2005 Asian Entrepreneur of the Year Award winner John Chuang, litl's philosophy centers on ease of use, elegance, and task focus. Litl was the first computer company to understand that home users need web apps, streaming media and online services - they do not need confusing options, intricate menus, legacy hardware ports, viruses and endless maintenance. Litl's value proposition is an engaging, simplified, intuitive and maintenance-free web at home.
The Litl webbook
The litl webbook is the world's first cloud-based netbook and rethinks the netbook as an engaging web appliance for the home. The litl webbook is essentially an interface to web apps, streaming media and online services, removing barriers between you and your content: there are no confusing legacy ports or keys, no hard drive, and no maintenance - litl's software upgrades itself. Our unique user interface, which predates Google's Chrome OS, manages online content, not files, and is easy to use for all ages. Litl's easel mode, using our patented hinge design, inverts the webbook when " flipped", minimizes footprint, and angles the ultra bright LCD for viewing anywhere in the room.
Before litl, home computers were essentially the same as office computers. Yet leisure computing has become primarily web and cloud based. Home users still struggle with complex interfaces designed in pre-web times solely to manage hardware and endless "service packs" and antivirus updates.
Litl worked for two years to develop our webbook and litl OS software platform, recruiting leading software engineers, designers and user experience experts and working closely with some of the world's leading technology and user experience consultancies, such as Fuseproject, Pentagram, Cooper Consulting, and Moto Engineering. Litl's platform is an optimized interface to the cloud, designed to manage content, not files. Litl OS is the unique web-oriented interface powering the litl webbook, designed to remove barriers between you and your web content. Simple and clutter-free, litl OS manages content not files. It is maintenance-free: upgrades are automatic via internet. Usable screen area is maximized while keeping different sessions open as cards. The litl home key or litl logo takes the user to card view. Litl OS also provides a platform for specialized applications (channels) that optimize content and media for the webbook. Our customers tend to already have a primary laptop for office work - by contrast, our device is for fun.
Litl's apps or channels platform allows continual expansion of litl-optimized offerings and invites a global community of 2 million Flash developers to build channels for the litl webbook and forthcoming products. Litl channels are full screen, in-browser applications that optimize web content experiences on litl's platform. Litl channels make the web — especially fun content like photos, music, games, video, recipes, and even news — more useful and entertaining. Litl has developed channels with partners including Facebook, The Weather Channel, Flickr, Shutterfly, NPR, and BakeSpace - a 2009 Webby Award nominee for Best Social Network. Litl has released an easy-to-use, free SDK for community developers. Channel offerings are being expanded via our automated update system. The blue litl wheel allows flipping across channels like a tv tuner.
Consumers opinions
"Ten out of ten at first sight. The packaging alone reveals its content. Faultless, simple, easy to open, readable, charming. Litl is simplicity itself, press the button and surf"
"It is far better than a tiny notebook where Picasso's Guernica style images are reduced to the size of a stamp. Functionality and images on Litl are excellent, from any angle. The pivoting screen and remote control are ideal for presentations. This "Litl" has all the attributes of the great"
"In fact it is almost the first time that I see a beautiful computer. Of course, we have had Apple, but everyone has one now and it is not quite the same experience. Litl is simple, complete, and beautiful"