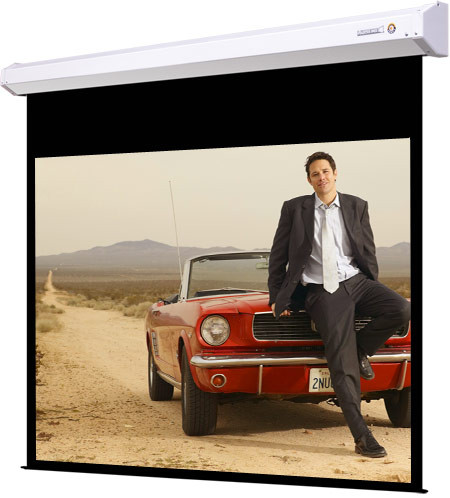 Consumers notation : Design : 8.9 - Ease of use : 9.7 - Innovation : 9.6 - Global notation : 9.4

Inovadis is a French design and development company founded in 2004 that aims at offering Hi-fi and Home Theatre products that combine a modern and functional design, excellent performance and the best value for money.
Inovadis already owns 3 brands: Elipson loudspeakers, Norstone AV furniture and AV accessories and Lumene projection screens. Inovadis products are sold in more than 35 countries worldwide, depending on the brand, and are quite strong in Europe.
Majestic Premium
The Majestic Premium is today's most complete motorized screen. Its top of the range screen material offers a perfect colorimetry and a large field of vision. Its opaque black back allows an installation in front of a window and its black borders improve the contrast level. The fast and safe attachment system allows an installation on wall, ceiling or suspended. This fastening system has a large latitude for brackets placement: an important advantage for specific installations. It uses a Somfy tubular motor, reliable and quiet. Its control interface includes an integrated infra red command (with a fine adjustment system for the screen material positioning), a provided deported sensor (allowing the casing to be slot in), a trigger input and a RS232 interface for home automation. It simply to connect it to an electrical outlet and enjoy the show.
The Majestic Premium has no competitor today on the market, given its features, and its incredible price for value. The Home automation integrated system makes that the Majestic premium is becoming a the must-have of every integrator.

. Dimensions (W x H x D) : 102 x 6.3 x 5.9" / 259 x 16 x 15 cm
. Gross weight : 33.5 lbs / 15.2 kg
. Net weight : 27.3 lbs / 12.4 kg
. Motor Powered by Somfy
Consumers opinions
« This screen is sensational, I placed it in front of my window and it completely hid the daylight, the result is unbelievable »
« The binding system is ingenious, really easy to install for indoor or outdoor use »
« So easy to do that my husband installed the screen himself »