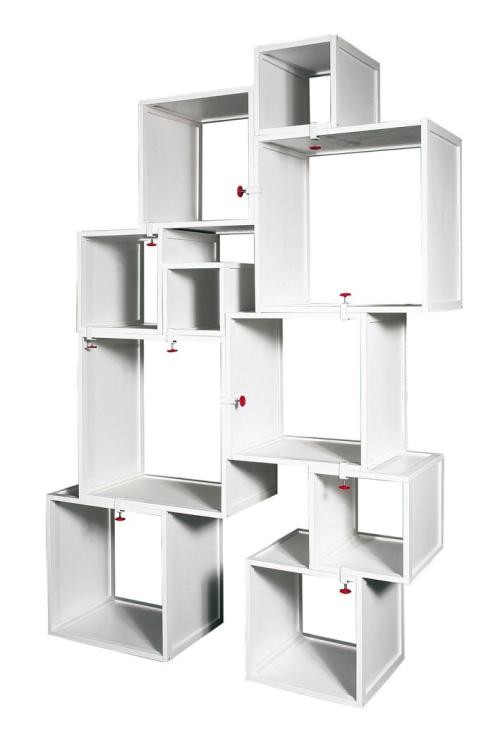 Consumers notation : Design : 9.9 - Ease of use : 9.7 - Innovation : 9.8 - Global notation : 9.8

Since its establishment in 1964, the company Seletti has always distinguished itself with its tendency for innovative solutions in the area of household products. Due to changes in distribution and growing competitiveness in the market, in the last twenty years the company has carried out a thorough transformation, focusing on design and the strength of Italian creativity. This transformation led to ideas and designs that have carried the brand into its present incarnation : that a brand stands out for its personality, activity, challenges and constant research. As a result of unique combinations, references to the world of art and care for daily needs, Seletti products enter the homes of any consumers with fine taste, who like creating fun and personal life styles.
Assemblage by Seletti.
Design : Selab
Specifications : Bookcase with silkscreen prints, set 10 modules
Material : wood supplied with 12 metal clamps
Dimensions : modules from 23,6" x 15,7" h. 23,6" to 9,4" x 15,7" h. 9,4" ≈
Consumers opinions
"Sometimes, in matters of design you have to depart from what already exists, what is already approved, known and recognised and move into the totally new. Seletti has achieved this with Assemblage, an incredible piece of furniture never seen on the market, freedom to literally compose your own piece of furniture, genius at work."
"More and more we want to design our own interiors, be different, authentic, surrounded by art objects which reflect our personality. Seletti understands this perfectly and offers us a self assembly piece of furniture which can be put together to great effect in a few minutes. The wood is simple, light, the lines are pure, everything works well."
"It reminds you somewhat of a building site, or some display in a museum, it catches your eye immediately and your idea of storage furniture is changed. I think that you can use it for everything, from table ware to books, clothes, for the home or in shops, it is simple, catches your attention, so for me, it works."