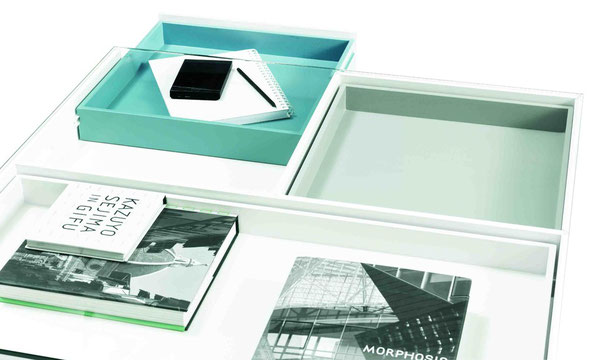 Consumers notation : Design : 9.8 - Ease of use : 9.6 - Innovation : 9.8 - Global notation : 9.8

BoConcept A/S was established in 1952 and is today an international retail-oriented concept holder with a coordinated product range comprising design furniture and lifestyle products for private homes. Passion and persistence are what move the people behind the BoConcept brand, whether they are designing a wall unit, leading a team, or managing a Brand Store. Our common mission is to make modern design furniture and accessories available to the urban-minded shopper.
OCCA coffee table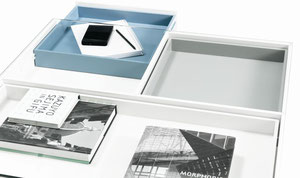 Big ideas for small rooms. Urban living requires creative thinking when it comes to optimising the space you have in a flat or small home. BoConcept is this season adding even more new designs to their intelligent range of multi-functional coffee tables.
The ultimate examples of functionality are the coffee tables with tops that can be lifted into a higher position so you can use them for storing, dining and working. BoConcept introduces new colour options for one of their best-selling coffee tables. You can mix and match between white lacquer, walnut and black-stained oak veneer and glass tops in glossy white or dust grey and matte black.
Now, a new coffee table includes storage on display. The glass top reveals a set of drawers underneath that can be opened with a gentle push for easy access. Personal and favourite pieces can be placed in the drawers for a very decorative and unique table. The Occa table is available in high gloss white and with a choice of many different leg designs. You can have drawers all in white or enjoy a colour combination of white, grey and blue.
Or if you prefer to hide away the mess that normally is left on the top of the table, BoConcept is also introducing coffee tables with a 'secret room' – a hidden drawer underneath the veneer top. The finishing is elegant and refined. The tables are all part of the Occa range at BoConcept and comes in different colours and with different leg designs.
Find out more in your nearest BoConcept Store or go to www.boconcept.com.
Consumers opinions
"Here, practicality, esthetics and design merge into the 10379. This highly refined low table with storage « windows » which render day to day objects sublime is the epitomy of a perfect alliance between creativity and uniqueness"
"It is very beautiful, with practical storage for easy to find objects ; the colours are coherent and the product magnificent"
"An extraordinary table at an ordinary price. Designers often favour chairs or sofas so I am pleased to see this company's successful focus on the living room's soul"