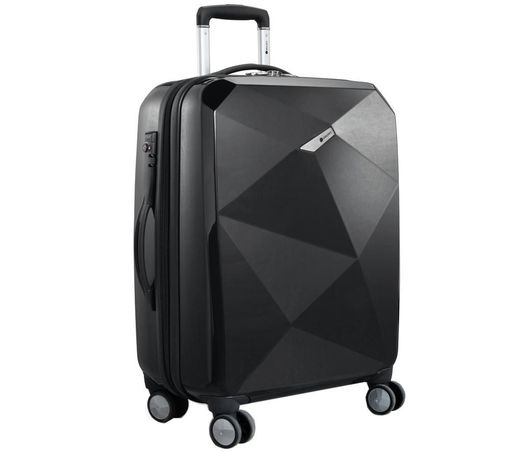 Consumers notation : Design : 9.9 - Ease of use : 9.9 - Innovation : 9.8 - Global notation : 9.9

DELSEY is a pioneering company that has chosen an avant-garde position in order to become the benchmark brand in the luggage market :
. World's second biggest high-range luggage brand,
. Present in 110 countries, on 5 continents,
. Today DELSEY sells more than 4 million pieces of luggage per year,
. one luggage sold every ten seconds,
. 75 % of sales on export markets.
Delsey KARAT
On the cusp of design just like high technology, KARAT was designed like a work of modern art. Its incredibly refined look with gemstone-like polycarbonate facets bestow a unique personality and exceptional lightness. Like a jewel, it comes in a lovely protective cover that can be used even when rolling. The case hides an array of functions in its distinguished and discreet interiors. Exceptional manoeuvrability thanks to its double wheels and the TROLLEY system designed to bring unsurpassed comfort and silent rolling. Protection is revolutionary here as well with the SECURI TECH ZIP incorporated into the luggage: an innovative slide fastener offering efficient, secured protection against the risk of forced opening.
Beautiful, practical, secured and light, it is already a must-have to pair on exciting trips.
Consumers opinions
« The design is very elegant. The luggage is very practical»
« The detail of the luggage echoing the detail of the wheels: perfection »
« Its wheels go everywhere, so easy to drive »
« The Rolls Royce of luggage, no doubt »