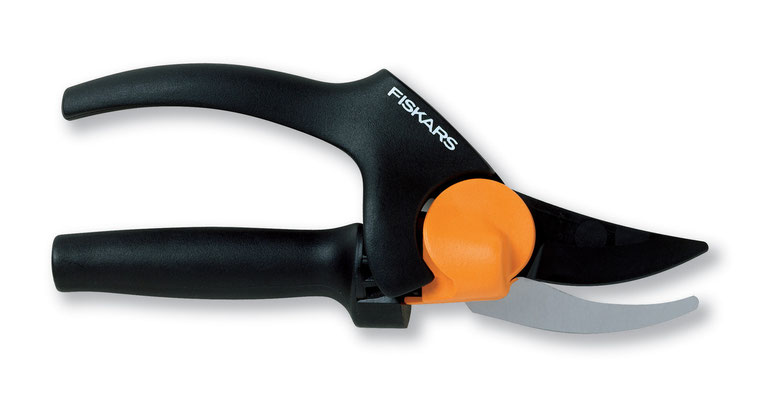 Consumers notation : Design : 8.7 - Ease of use : 9.6 - Quality : 9.2 - Global notation : 9.2
2012 is a special year for Fiskars as we celebrate the 45th anniversary of our Original Orange-Handled Scissors™. First introduced in 1967 as a fabric scissors, our Orange-Handled Scissors redefined the standard for comfort, quality and cutting precision. Not only was our innovative new design much lighter and more comfortable than forged scissors, the cutting performance was so good it forced many a home seamstress to declare the scissors off limits.
PowerGear® Bypass Pruner by Fiskars
Description
A unique design makes cutting 3X easier and enhances comfort for users with medium to large hands.
Specifically designed to make pruning more comfortable for people with medium to large hands, our PowerGear® Bypass Pruner features patented gearing technology that multiplies force in the middle of the cut where resistance is greatest. This makes cutting three times easier than traditional single-pivot tools and has helped earn this pruner the Ease-of-Use Commendation from the Arthritis Foundation®. A razor-sharp, precision-ground blade stays sharp and resists rust, and a low-friction coating makes every cut even easier. Additionally, an ergonomically designed DuraFrame™ handle fits your hand comfortably and offers excellent durability.
Features
Bypass blade design is ideal for pruning green, living growth like ornamental shrubs and trees
Specialized design makes pruning more comfortable for users with medium to large hands
Winner of the Arthritis Foundation® Ease-of-Use Commendation for a design that's easy-to-use for people limited by arthritis
Patented PowerGear® non-circular gearing technology multiplies leverage to make cutting up to three times easier than single-pivot tools
Razor-sharp, precision-ground blade cuts with less resistance than thicker blades, resist rust and stay sharp for lasting value
Low-friction coating helps blade glide through wood and prevents the blades from gumming up with sap and debris
Ergonomically curved handle fits the natural motion of the hand comfortably
DuraFrame™ construction is lightweight yet stronger than steel for lasting value
Cut capacity: 3/4"
Lifetime warranty
Consumers reviews
"It is really much simpler to use than any other secateurs. I suppose that it is the fact that the handle turns which gives it its strength; in any case I cut my branches and it goes in like in butter. Cool!"

"I really do love gardening but secateurs mean guaranteed blisters between my thumb and index finger even though I have strong hands. With my « Fiskars » the movement is smooth and I get no irritation even after two solid hours of cutting."

"Perfect design, innovative and easy to use. In gardening, you do need the right tools to do the right job!
"
"What is great about these secateurs is that they adapt to your hand. That's what I call comfort!"