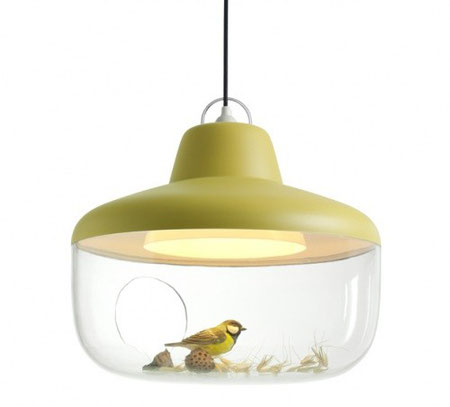 Consumers notation : Design : 10 - Ease of use : 9.8 - Innovation : 9.9 - Global notation : 9.9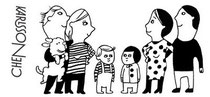 Chen Karlsson is a design company founded by the two families of Chen and Karlsson. With inspiration from the Scandinavian and Asian design traditions we design and distribute homeware for a rich everyday life.
Our products are produced by carefully selected industries and craftsmen in Scandinavia and Asia.
Favourite Things : vitrine+pendant lamp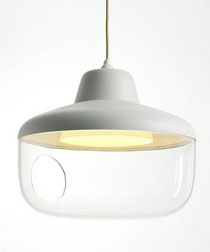 Chen Karlsson is glad to announce that the pendant lamp "Favourite Things" is now available for retail in selected stores throughout Europe.
Favorite Things is a vitrine and pendant lamp combined; a product dedicated to highlight your souvenirs, objects d'art and personal trinkets. The main body consist of a round reflector and a transparent tank with an aperture in the side.Through the aperture you are invited to insert your selected objects – wether it would be porcelain figurines, your first baby shoes or memories of past holidays. The idea of the design originates from a visit to the natural sciences museum in Stockholm, where a polar-bear was dramatically spotlighted inside a glass cabinet.
The accentuated light source exposed the white creature dramatically. As the background faded into the darkness the setting very much reminded of an old italian painting.
"We, and our children, loved the effect of that particular cabinet. Instantly we started to think of how we could achieve something similar in a format more suitable for the home. Said and done, the idea to the Favorite Things pendant was born" - Chen Karlsson designer Hung-Ming explains.
Consumers opinions
"Designers need to devote as much thinking to lamps as they do to chairs. All new products often adopt old codes and structures or run the risk that their innovation proves utterly non-functional. This object has never been seen before, is easy to install and showcases your very own favourite treasures. Possibly one of the most innovative and interesting creations of 2011"
"Must be seen to get a sense of the impact. In fact you see the object displayed under many different angles. You rediscover day to day objects and can easily change your decor regularly"
"Good ideas are where you immediately think « that should already have been created ». The « Favourite Things » should have been invented a long time ago and is therefore a superb idea. This product is not only beautiful and amusing, it brings theatre in the home where you can direct your own lighting and expand the work of the designer"