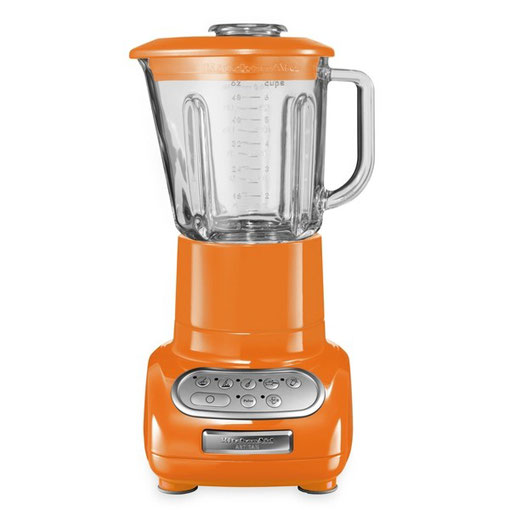 Consumers notation : Design : 9.6 - Ease of use : 9.5 - Innovation : 9.1 - Global notation : 9.4

It all began nearly 100 years ago in a small, Midwest town in the United States, when an engineer named Herbert Johnston watched a baker mix bread dough with a heavy iron spoon and decided that there had to be an easier way. In 1908, he put his engineering skills to the test and developed what became the first commercial mixer, which was used as standard equipment in all US Navy ships.
Eleven years later, skilled Hobart engineers embarked on a new programme to develop a mixer for domestic use. When the wives of Hobart executives tested the new mixer, one remarked, "I don't care what you call it, it's the best kitchen aid I've ever had." From that day on, this brand name has been the KitchenAid® trademark.
As of 1994, a wide pallet of attractive, bold colours was introduced for the portable KitchenAid® appliances, enabling cooks to choose from an unrivalled colour selection to match their kitchen perfectly. KitchenAid® stand mixers are far more than just a mixer: they can be converted to anything from a pasta maker to a sausage stuffer or a citrus juicer using an impressive array of optional attachments. They're in a class of their own.
In short, KitchenAid® appliances are not only designed to meet your culinary needs in terms of professionalism and performance, but they will make you the envy of your friends with their eye-catching designs and stunning good looks.
The NEW Artisan® Blender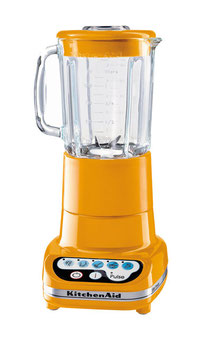 KitchenAid introduces the NEW Artisan® Blender in 12 exquisite colours and finishes including the NEW COCOA SILVER. Designed to complement every style of kitchen décor from traditional to ultra modern, the new blender delivers professional performance, with an enhanced powerful motor and unique blade design.
. NEW POWERFUL MOTOR - capable of rotating up to 400 times per second. The 'soft start' and INTELLI-SPEED™ adjusts power to help maintain optimal blending speed through varying densities of food, to deal with light and heavy applications. Five functions include stir, chop, crush, mix, puree and liquefy.
. NEW BLADE DESIGN AND PITCHER - a unique stainless steel blade design with oversized tines, aligned on four different planes to cope with the toughest jobs from blending thorough to ultimate ice crushing.
. NEW JUG AND LOCKING SYSTEM – a super large robust, stable and durable 1.5 litre glass pitcher renowned for its heat resistance and high-impact strength. Guaranteed not to, cloud or discolour, the jug is both microwavable and dishwasher safe. Ergonomically designed for easy pour, contours along the inner wall direct ingredients for a fast and thorough blending.
. NEW LOCKING COLLAR - keeps the blades from rotating until the pitcher is firmly attached. The unit is ultra easy to use with a 'clean touch' control panel and self cleaning function.
. NEW ROBUST DESIGN – the blender has the well-known tactile 'retro' look, with solid knobs, buttons and smooth curved lines. The heavy-duty base made from die-cast metal is enhanced by a new and improved coated, steel reinforced coupler with 12 interlocking teeth for extra strength and quieter operation.
In addition to these five outstanding functions, the NEW KitchenAid® Artisan® Blender also has a new ice crushing button, allowing for continued smooth and consistent granulated crushed ice.
After outperforming all competitors, the KitchenAid® Artisan® Blender is the preferred choice on the market.
Consumers opinions
« Beautiful, red, I like it »
« It is really simple to use. You just need a finger »
« A beautiful product to cook with »