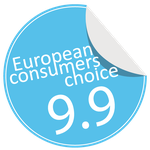 Consumers notation : Design : 10 - Innovation : 9.8 - Ease of use : 9.9 - Global notation : 9.9

With 34 companies and 22 sales offices all over the world, Hansgrohe is one of the few global players in the sanitation industry. The company is represented on all continents. During the 2014 financial year, the Hansgrohe Group supplied mixers and showers to 144 countries and employed 3,650 people. Ever since the company was founded in 1901, its company headquarters have been located in Schiltach in the Black Forest. Production takes place in Germany, France, China, the Netherlands and the USA. 

Axor represents the diversity and fascination of individual lifestyles in the bathroom. Comprehensive bathroom collections are created in collaboration with some of the world's most successful designers. These collections are as individual and as diverse as people themselves, and offer a multitude of different styles: from lively, charming bathrooms/living spaces to nature-inspired havens of tranquillity.
Axor Citterio - A collaboration between Philippe Grohe and Antonio Citterio
Aesthetic appeal, sophisticated functionality and outstanding workmanship: with Axor Citterio E Philippe Grohe and Italian architect/designer Antonio Citterio are introducing a new collection of bathroom fixtures that exude elegance, high quality and worth. 

"Our successful design partnership with Antonio Citterio began 14 years ago", says Philippe Grohe (on the left of this picture), Head of Axor. "The success story that began with the Axor Citterio collection is continually evolving. Axor Citterio E is a charming combination of modern and classical features – elegant and timeless products of the highest quality that not only enhance the bathroom as a whole, but also our experience with the element of water." 
Consumers opinions
"It offers perfect lines, both round and sharp .It fits perfectly well in a bathroom."
"I had seen taps like this before, with a small mixer joystick in the middle I had even installed one at home but it had taken me a long time before I could find the right temperature or stop the tap from flowing. With this one it's very instinctive, you can find the middle right away, it's fluid, convenient and enjoyable."
"It's amazing how this tap can bring so much more comfort in a bathroom than a common one."
"The flow is perfect, the control of the water supply is perfect, the faucet height, shape and curve, are perfect too"
"I can imagine how much time it took to achieve such an innovation. I am pleased to realize how hard companies  work to get such good results."