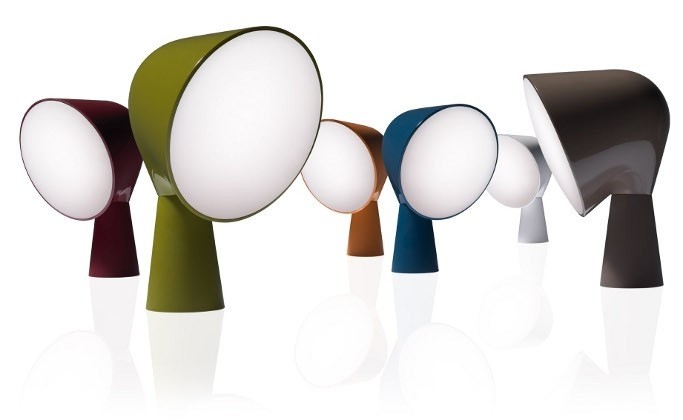 Consumers notation : Design : 9.8 - Ease of use : 9.5 - Innovation : 9.5 - Global notation : 9.6

Research and innovation, attention to quality in production and services offered, an international focus, maximum flexibility and, above all, a product-centred culture that is the result of good design: these are the elements that characterise Foscarini's company identity.
As a result of these qualities, Foscarini has managed to develop its collection of models with a strong personality, the fruit of coherence between design and production. Its partnership with grand masters and young talents from the international design circuit, with different types of professional experience and creativity, the central nature of the project and the company's flexibility, have led to original products that are dictated each time by the features of each single design.
What is Binic?
It's the latest addition to the Foscarini family, a small, lively table lamp, available in six different colours enabling a perfect fit to your personality. Affordable and versatile, Binic was created as inspiration for a present, or to add to your wish list: a real take away or impulse buy item as the young designer, Ionna Votrain, who has put her name to it, would say.
Ionna Vautrin, designer.

Born in France in 1979, Ionna Vautrin is graduated from L'école de design Nantes Atlantique in 2002.
She worked successively for Camper in Spain, and by the Studios of George J. Sowden in Italy and of Ronan & Erwan Bouroullec in France. At the same time she develops its own works with differents design companies: first time with Industreal in Milan, then with the Tools Galerie in Paris and since 2010 with Foscarini.
Consumers opinions
"This lamp is already an icon which will pass the test of time and will increase in value year after year. Given its very modest cost it is a good investment for now because of its esthetic qualities and for the future as it is bound to increase in value on the design market."
"Lamps, chairs, the two most visited objects by designers. Here the packaging tells all – you know straight away that here is something different, rare, where attention to detail has created a unique object which leaves no one indifferent, neither today nor tomorrow. This object will enter the history pages of 21st century design."
"It is really pretty. I am from Brittany in France and the binic table lamp reminds me of home, ships funnels and lighthouses, seafarers and those who wait for them on the sea shore."