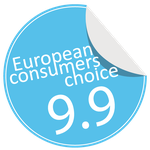 Consumers notation : Innovation : 9.8 - Design : 9.9 - Ease of use : 10 - Global notation : 9.9

In 1919 our iconic Stand Mixer was born. And from that stemmed an entire kitchen of high-performance appliances-all created with the same attention to detail, quality craftsmanship, versatile technology and timeless design.
As the only appliance brand that only makes things for the kitchen, we continue to keep pushing the limits with our products so you can keep doing the same with everything you create. So, here's to you, your kitchen and the delicious world that surrounds us all.
Gastronomy at your fingertips
Welcome to creative, easy cooking with the KitchenAid Artisan Cook Processor. This new all-in-one appliance will revolutionize the way you cook. Preparing even the most complex recipe becomes simple, as this intelligent machine displays step-by-step instructions for every delicious dish.
The KitchenAid Artisan Cook Processor is the ultimate helping hand in the kitchen saving you valuable time and effort while helping you to unlock your culinary potential.
Simplicity, control and precision meet KitchenAid's timeless design. Enjoy culinary creativity at the touch of a button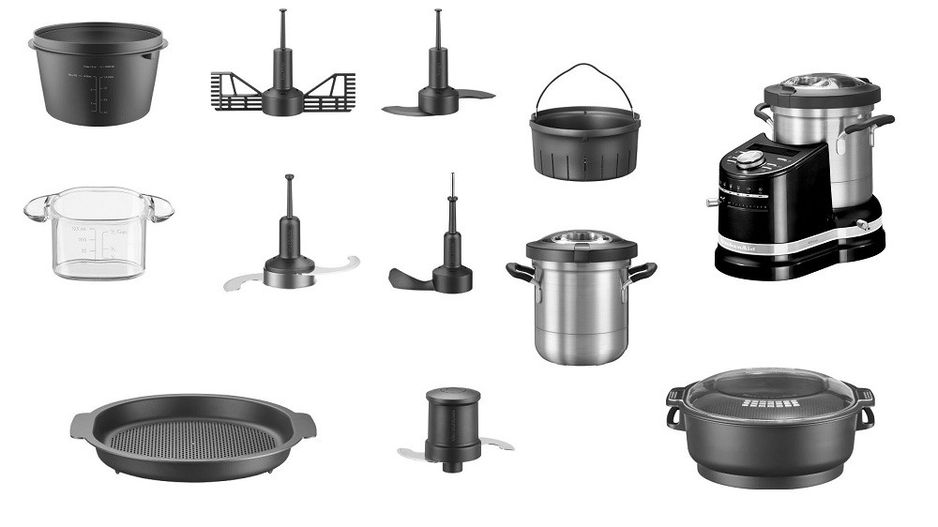 All-in-one appliance
All-in-one Appliance. The ultimate helping hand - saves valuable time when creating delicious meals. 

Chop, crush, mince, blend, mix, whip, emulsify, knead, steam, boil, stew, fry. 
Six auto modes: Boil, Fry, Stew, Steam, Purée and Dough-MakingFor simple programming and cooking. 
Unique and stylish 4.5 L Stainless Steel cooking pot with ergonomic handles, hinged lid, and a feed opening. Create anything from very simple to more difficult dishes from scratch. Makes it easy to prepare a delicious meal for small or big families. The hinged lid and feed opening make it easy to add ingredients and herbs while cooking. 
Free Cookbook and smart App offer. S

tep-by-step guidance for many classic, everyday recipes



Thick aluminium plate reaches high and precise cooking temperature (140°C). With higher and more even heat, precise temperature sensing and faster heat 

increase when incorporating cold food. 



StirAssist. Gently flips and stirs ingredients for even cooking and 

'stirred-by-hand' results. 



Die-cast metal body, metal knob and levers, and premium finishes. 

Robust, stable, built to last and easy to clean.
Boil - Fry - Stew - Steam - Purée - Dough-Making
Recipes are organized by auto modes: Boil, Fry, Stew, Steam, Purée and DoughMaking.
The recipes give step-by-step instructions, and once you've mastered the machine, you can program manually and develop your own recipes.
Settings (temperature, time and speed) come on automatically during the auto modes; you may also adapt these manually.
Select auto mode, and then choose program, as per the recipe.
Discover tasty recipes and learn how to use the Cook Processor with our beautiful FREE Everyday Classic Recipes cookbook.
Choose from weekday staples such as a simple soup, to crowd-pleasers such as stews, chili, risotto and pasta, as well as sauces and desserts. In addition, your FREE cookbook App will regularly provide you with new ideas helping you to create culinary masterpieces in just a few clicks.
Consumers opinions
"I had never used a cooking processor before, I would not even have known exactly what it was useful for, so I did the tests as a novice and I made something  easy at the beginning and more complicated  afterwards. I took my mission very seriously and I really acquired a taste for cooking with this cook processor because you can do everything (frying, steaming, mixing, making cake or bread dough, ...) in a -3 week-tests I  could not manage to find its limits".
"I love cooking but I tend to eat the same thing all the time, because of a lack of inspiration or time and this cook processor is a real challenge, in fact it is like a sport coach but for cooking. It really pushes you to go further, to improve your cooking skills, to dare new things."
"The bowl has a perfect size for cooking. Other cooking processor always have tiny bowls that may be suitable for single but not a couple or a family. Such a detail and another one such as the silicone hanse  are the proofs that it's really upscale. 
"
"What I particularly like is that this device is easy to use and easy to maintain. There is no touch screens which are difficult to use and get dirty after 2 minutes of use. A very robust wheel, some specific and simple buttons, it has everything you need for cooking."
"I am ashamed to say it but although I am a lovely person, I am a bit like Doctor Jekyl and Mr Hyde when I'm cooking. You must not ask me   «  what are you doing ? or « can I have a try  ? » I hate being disturbed when I cook so I cook when there is nobody at home, a long time before the guests arrive to avoid stress. These are the main reasons why I love this machine, it is like a masseur in the kitchen, it relaxes me, helps me to manage my time and stress  better and achieve mastered dishes."
"The application « KitchenAid Cook Processor » is very well done and gives good ideas. That pushes me to try new things and it is very inspiring and very well done."