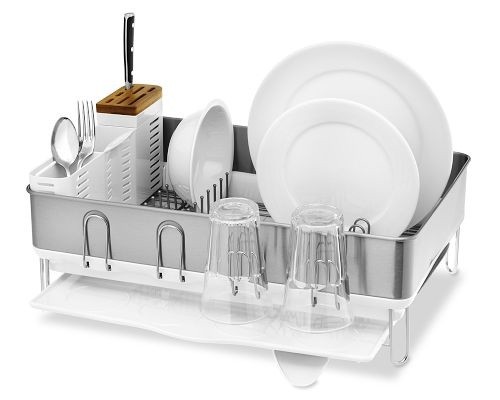 Consumers notation : Design : 9.5 - Ease of use : 9.6 - Innovation : 9.4 - Global notation : 9.5

simplehuman revolutionized the housewares industry in 2000 with the first stainless steel butterfly step can. With the mission to create "tools for efficient living" simplehuman continues to lead the industry with its new line of sensor trash cans, award-winning sensor-activated soap pumps, stainless steel step cans and storage and organization products. The company has won more than two dozen design awards and its products are sold throughout the world at fine specialty retailers.
Steel frame dishrack
You wash, I'll dry: Our dishracks have an innovative drainage system that keeps water flowing into the sink, not onto the countertop.
Features :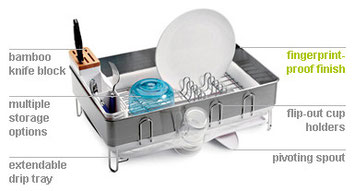 easy to clean: utensil holder and wire frame are top-rack dishwasher safe; clean all other parts with warm, soapy water 
all's quiet on the countertop: hide dishes and wires behind the smooth, quiet lines of our steel frame 
swivel spout: spout pivots to drain water directly into the sink 
adjustable tines: flip up the supports to hold small plates, or leave them flat for larger items like pots and pans 
fingerprint-proof: resists smudges to keep stainless steel shiny 
extendable drip tray: pulls out below the cup holders to catch drips 
flip-out cup holders: flip out when needed and flip up neatly out of the way when not in use 
natural bamboo knife block: gentle on sharp blades 
flatware caddy: separate compartments keep utensils neat and organized 
coated steel wire: soft, coated steel wire protects your dishes against chips and scratches
Sizes and dimensions: 21.4 x 15 x 8.5 (W.D.H.) 
Warranty: 5-year warranty  
Consumers opinions
"This product is both beautiful and practical. All too often dishracks are made of plastic and rather ugly but this one is elegant. I want to show it off."
"I find dishwashing relaxing. Although I have had a dishwasher for fifteen years, I just love from time to time to dip my hands into a pot and scrub scrub scrub. I am fond of this rack because it is functional and made for dishwashing lovers"
"I stopped using plastic dishracks and dried all my dishes directly after washing as I found a draining area with stagnating water rather offputting. This rack is super hygienic and the water flows perfectly ; it's beautiful and even the drain is clean. Yes, I'll have it"